Makita
The range of Makita power tools encompasses corded and cordless drills, circular saws, routers, sanders and miter saws for the woodworker to grinders, pneumatic tools and hammer drills for the building trades. Makita are a professional grade tool designed for the most demanding of tasks.
Makita woodworking lineup include:
Routers both plunge and fixed base with motors ranging from 1 HP to 3 HP
Planers-both hand and bench models and a plate joiner
Miter Saws, Jig Saws and table saws
Of the table saws there are two models that weigh only 40 lbs. for easy transportation to the job site.
Makita's industrial tool offerings consist of:
Reciprocating Saws-useful in the plumbing, remodeling and construction trades
Grinders, Polishers & Sanders, Cut-off saws, Nibblers and Shears for metalworking
Hammer Drills, Rotary Hammers, Demolition Hammers and Breaker Hammers for concrete and masonry work
Pneumatic Nailers and Staplers and Compressors
Makita has a solid reputation for quality tools. They have a complete service network across the nation handling repairs and accessories. They offer 48 hour or less repair return.
Bosch
Bosch power tools were first introduced to the world in 1932 with the first electric rotary hammer. Following this trend, Bosch went on create the lightest rotary hammer in the world (2 Kg 1981), and the SDS Max system (1990) for quick and easy hammer bit changes. In 1947, Bosch also introduced the first jigsaw to world when a Bosch employee fastened a blade to his wife's sewing machine. Today, Bosch still enjoys the reputation for this innovation in woodworking.
Aside from it's historical innovations, Bosch has maintained a reputation for high quality power tools and accessories. This is due to their superb attention to engineering. For instance, their jigsaws produce low vibrations due to a counter balance mechanism. Their Airsweep system keeps dust away from the work area and operator alike. And their Clic system allows for quick and easy changing of blades without the use of tools. Bosch SDS a SDS-Max systems have set the standard for this innovation.
Bosch offers a vast and complete line of power tools and accessories to accomplish any job:
Abrasive cutoff machines
Bench top tools
Cordless saws, rotary hammers, and drills
Demolition hammers
Drills
Grinders
Hammer drills
Planers
Routers
Sanders
Saws
Northern Tool
The Northern Tool's product line includes generators, small engines, pressure washers, hand, air and power tools, hydraulics, pumps, trailer parts, corn stoves, shop supplies, lawn & garden, food processors, and much more. They offer name brand products such as Honda, DeWalt, Makita, Milwaukee, Briggs & Stratton, Igersoll-Rand, and Bobcat.
Northern Tool offers all of their products online at affordable rates. They are available 24 hours/day and 365 days a year to meet all of your shopping needs (free UPS shipping on purchases $75 and over). You can also order a free catalog if shopping on their website isn't your style (www.northerntool.com).
Northern Tool has a long reputation of customer satisfaction and company integrity. Many of their products are even supplied to the US Armed Forces. So, to find the largest selection of everything from pliers to power washers all in one place, Norther Tool is the number one place to go.
Snap-On Tools
Snap-On Tools is a name known by everyone in the motor service industry. For over 80 years, Snap-On Tools has led the industry by providing the name brand that people trust when it comes to automotive care. Their products range from hand tools, to power tools, to diagnostics, to shop equipment, to tool storage, to software solutions.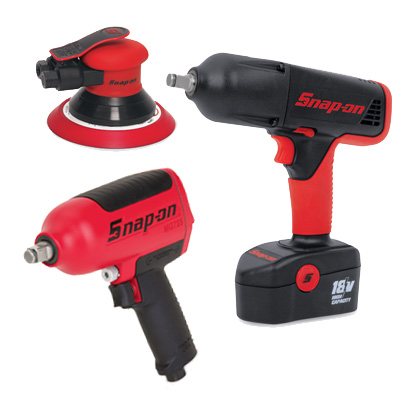 Snap-On hand tools have evolved to a level unsurpassed by other forged tool companies. Their products have received the highest praise for industrial strength and integrity. Snap-On offers over 14,000 hand tool products including sockets, ratchets, wrenches, screwdrivers, pliers, torque wrenches, cutting tools, handheld saws and professional pruning tools.
Snap-On have established themselves as the name automotive technicians can trust their craft with. These tools include impact wrenches, air ratchets, hammers, drills, sanders, polishers and grinders, all in pneumatic, cordless, and corded varieties.
Their diagnostics tools also lead the pack among automotive technicians. Snap-On makes the world's most popular Scanner diagnostic tool and revolutionized hand-held meters with their Vantage multimeter.
For this vast line of products, Snap-On also offers top-notch storage units to house and protect your investment. These tool chests, roll cabinets, and tool boxes come in all shapes and sizes to fit you needs.
Without a doubt, when it comes to automotive care, Snap-On Tools are heads above the rest.